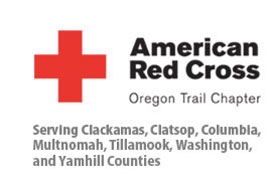 Together We Prepare Oregon

Our Services – Disaster Services
In Fiscal Year 2006, the Oregon Trail Chapter services touched nearly 100,000 lives in our seven-county service area. Each of these departments represents the larger commitment of the American Red Cross to help our communities prevent, prepare for and respond to emergencies.
Oregon Trail Chapter staff and volunteers respond to a disaster every 40 hours in the local community, providing relief to those whose lives have been disrupted by fire, flood or other devastating emergencies. We are also committed to educating our community about preparing for disasters, and offer many resources to help make Oregon the most prepared state in the nation.
Safety Training
Whether you are providing CPR and AED training to your employees or want to be individually prepared for unexpected emergencies, Oregon Trail Chapter safety training classes deliver high quality programs with options to meet your needs.
Youth Programs
Youth and young adults are the future of Red Cross and they can make a significant impact by delivering valuable services and programs to the community. The Oregon Trail Chapter offers a variety of ways for youth to gain valuable leadership skills while volunteering.
Family Caregiving
Generations of Americans have relied on the Red Cross for training that helps keep families safe. And now, though the new Family Caregiving Program, we're here for you and your loved ones with information that incorporates the latest research and care standards to help you provide the best care possible.
Transportation Services
The Oregon Trail Chapter is one of a network of agencies that provide accessible transportation for senior and disabled riders. Our goal is to match ride requests with a volunteer driver who will ensure safe, on-time, door-to-door service.
AmeriCorps
Make a difference in your community. The Oregon State Service Corps and the Clara Barton VISTA Corps offer unique ways for you to get involved.
Armed Forces Emergency Services (AFES)
AFES delivers essential Red Cross services to active duty members of the military and their families worldwide and provides emergency communications between the service men and women and their families.
International Services
As part of its international mission, the American Red Cross can help the thousands of Americans still seeking information about loved ones missing since the Holocaust and World War II, or help with international tracing in the aftermath of war or displacement.