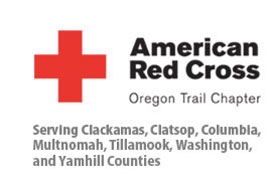 Together We Prepare Oregon

Training & Classes – Corporate Training Programs
The Oregon Trail Chapter offers a variety of First Aid/CPR course options for the workplace. All training programs are designed for the adult learner and emphasize hands-on skills and scenario practice. Students will have their own manikins during class and will receive reference material to help them stay current on the valuable lifesaving techniques learned in class.
Classes are available weekdays, weekends and evenings. In order to accomodate your specific needs, Oregon Trail Chapter offers three options for training. You can send your employees to an already scheduled class either at the Oregon Trail Chapter building (directions) or a local community site, you can bring a Red Cross instructor to your workplace or you can train one of your employees as a Red Cross Instructor.
At Your Workplace
All on-site classes are customized to include specific injuries and accidents your employees are most likely to encounter and to ensure that your class matches the needs of your employees and your workplace. To request additional information, click here.
At Oregon Trail Chapter or a Community Site
For a schedule of classes currently scheduled at Oregon Trail Chapter, click here.
For a list of Community Sites, click here.
Call (503) 280-1440 if you have any questions or would like a schedule sent to you.
Employers please note: Red Cross understands that coordinating your company's safety training can be time consuming. Using Oregon Trail Chapter's pre-paid voucher program will help make that process fast and easy for you and your employees.
Train One of Your Own
Train one of your employees as an instructor who can then train and certify your employees in Red Cross First Aid and CPR. This program has many benefits including:
The most comprehensive First Aid/CPR Instructor training available provided by professional Red Cross Instructor Trainers
Money saved on your company's safety training needs
Customized class size and instruction
A partnership with American Red Cross that includes additional safety programs and services for your employees and their families.
Instructional materials and equipment that are available both for rental and purchase.
Red Cross staff that is available for technical assistance and record keeping, including issuing certificates.
To enroll in this program or for more details, click here.