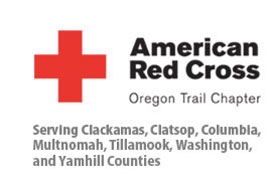 Together We Prepare Oregon

Volunteer – How to Become a Volunteer
Self Assessment: Click here to answer a few short questions to determine if volunteering with the Oregon Trail Chapter is the right choice for you.
Review Opportunities: Click here to read about the volunteer opportunities available at the Oregon Trail Chapter.
Volunteer Application: Click here to complete and submit your Volunteer Application online. *Please note that this link will take you to a secure page outside the Chapter's website. If you have questions, please contact Volunteer Services (503)528-5649.
Orientation: Click here to link to our national American Red Cross online orientation for new employees and volunteers (NEVO). The orientation is split into 4 modules of varying length. It will take about an hour to complete the whole course, but you can break it into sections. If your computer is unable to run the program, there is a dedicated computer for this just outside Volunteer Services at the Chapter. Please email vol[email protected] when you have completed the orientation.
Interview: Please contact Volunteer Services to schedule an Interview. Our Volunteer Services Specialist will review volunteer opportunities and help determine an appropriate placement for you. You may schedule this interview by calling: (503) 528-5649 or emailing: [email protected]
Placement Process: When a position has been selected, you will be given instructions on how to complete your online background check. As soon as it is successfully completed, you will begin working in the volunteer position.
Questions? Please call Volunteer Services at (503) 528-5649.
To sign up to volunteer for Pacific Northwest Regional Blood Services, call (503) 284-1234.